| |
Neues Rathaus (New City Hall)
Not only the glockenspiel, but also the vaulted ceilings, dizzying spiral staircases and many more elaborate details make the New City Hall on Marienplatz a great sightseeing spot
Every day, hundreds of people, Munich residents and tourists alike, stop to watch the nearly life-size figures of the glockenspiel twirl and joust to the music of 43 bells. And then they walk away. One of Munich's greatest claims to fame, the glockenspiel is all that most visitors know about the city's Neues Rathaus (New City Hall), the colossal 500-room Neo-Gothic building that dominates Marienplatz. But the political hub of Bavaria's capital provides a wealth of attractions.

The often overlooked Ratskeller in the basement serves traditional food and drink to all, not just to the political elite of the city council. Although the setting may be casual the grand archways, ornately painted ceilings and hand-carved woodwork produce a truly stunning effect. Consisting of both large, open rooms and tiny, intimate nooks, the restaurant provides an atmosphere in which it is as easy to indulge in a quiet, romantic dinner for two as it is to spend a jovial evening out with friends. From the Ratskeller visitors can reach the Prunkhof (the main courtyard, off Marienplatz) and look across to the Wendeltreppenturm (spiral-staircase tower), which is adorned with figures representing the four stages of life, from infancy to old age. Between the tower and the entrance to the Ratskeller is the Kassenhalle, which features cultural exhibitions throughout the year. It's also possible to ascend the hall's 85-meter-high tower for a rewarding view of the city and the Alps to the south (open Mon.-Fri. 9 am–7 pm, Sat.-Sun. 10 am–7 pm; adult admission € 1.50).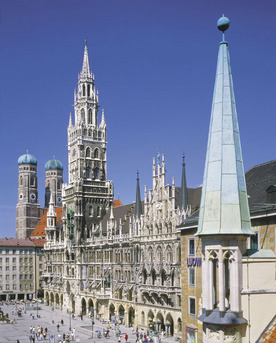 However, at first the building was the subject of much controversy. By the mid-19th century Munich had outgrown the neighboring Altes Rathaus (Old City Hall) and set out to construct a new administrative headquarters in 1864. The city council's plan to erect a Renaissance-style city hall met with fierce opposition from Ferdinand von Miller, director of the Royal Foundry and an influential politician. Miller campaigned for a Gothic Revival city hall and even though the city council had already made a decision, Miller persisted and managed to get a supporting majority. There was quite a lot of debate at the time about whether or not a Gothic Revival structure was suitable for Munich. Many considered the plans old-fashioned. After all the 20th century and the emergence of Expressionism and the Bauhaus were on the horizon. Yet despite this criticism—and the concern that the structure would diminish the beloved cathedral's role as Munich's focal point—many Münchner were eager to erect a monument to their growing civic pride.

Ultimately, the city awarded the job to a 24-year-old newcomer, Georg von Hauberrisser, an architect from Graz, whose first big project would make his career.

But even before the doors opened in 1874, it was obvious that the building was too small. The city arranged the purchase of additional property and Hauberrisser went back to his drawing board. Planning a spired tower for the extension, he added the clock when Karl Rosipal, a local businessman, offered to fund it. The extension was completed in 1904 and it is easy to see where one construction phase ended and the next began: the red brick of the earlier half meets the white stone of the second half in the middle of the facade. In an effort to give the structure a more unified appearance, statues of the Wittelsbach royal family were added after completion.

Nonetheless, the result is impressive. Hauberrisser had embraced his task with great enthusiasm, designing everything himself—from the intricate facade to the labyrinth pattern on the floor of the Prunkhof to the furniture and lighting fixtures. Though most of the original furnishings were damaged beyond repair in the war, both the law library on the third floor and the small assembly hall on the second floor still contain many of the original pieces. The damaged roof was repaired quickly after the war but other repairs took longer—most notably the lovely Bouché stained glass along the interior Treppenhalle (stairway hall), which wasn't restored until 1988.

From 1904, when it first went into operation, until 1972, when Marienplatz was closed off to traffic, the glockenspiel's daily performances brought bustling Marienplatz to a halt while crowds watched the reenactment of a tournament held to celebrate the 1568 marriage of Wilhelm V and Renata of Lorraine, and the Schäfflertanz (Coopers' Dance), which dates to the 17th century and celebrated the passing of the plague. The dance is also performed live every seven years on Marienplatz. The glockenspiel can be seen seven days a week at 11 am, noon and 5 pm. A short performance at 9 pm features special appearances by the Münchner Kindl (the Munich Infant), a little monk that is the symbol of the city who is led to bed by the Night Watchman of Munich and the Friedensengel (Angel of Peace).


© MF Bator/Sept. 02