| |
City Wall
Tracing the Munich's former fortifications
A medieval stone wall once surrounded Munich, protecting it from invaders while providing space for the city to flourish. In many ways, the story of the wall is the story of Munich and, as such, one that should not be forgotten.

In 1156, Henry the Lion needed money. The best way to get it was by collecting tolls on a bridge used for the lucrative salt trade over the Isar River. In a characteristically bold move, the duke altered the course of Munich's history by an act of vandalism. He burned down the existing toll bridge at Oberföhring and built his own, rerouting the salt trade through what was then a tiny community on the banks of the Isar. Foreseeing the need for protection, Henry ordered the construction of a continuous stone wall around the fledgling city. This ring, completed in 1175, was small, with a radius of only 400 m and with the Marktplatz (today Marienplatz) at its center. The salt trade brought prosperity and growth and as such, Munich began to strain against the confines of the wall. In 1330, therefore, a second city wall was built of brick, with a perimeter large enough to accommodate five centuries of development. The new wall had eight gates, three of which remain today, and was dotted at regular intervals with tall watchtowers. A moat, fed by tiny tributaries of the Isar, surrounded the wall.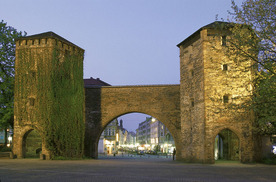 In 1618, the Thirty Years' War began. Maximilian I ordered an extensive system of bastions, ramparts and ditches to be built along the outside of the wall to strengthen the city's fortifications. This massive construction project employed 40,000 people for 13 years. By the late 18th century, however, the wall was outdated. Not only was it useless against modern warfare technology, but it was simultaneously corseting urban development. Elector Karl Theodor declared that Munich "is not, cannot be and should not be a fortress." Shortly thereafter, an extensive reconstruction campaign was begun. Over time, the wall was completely leveled.

Though most of the old city wall was destroyed, one can still track where it stood, visit the three remaining gates and use one's imagination to fill in the missing pieces. To follow the wall's route, begin at Isartor—in its day the city's most important entrance. At this gate, the salt trade, the economic life-blood of early Munich, flowed into the city. Today, noisy traffic along the Thomas-Wimmer-Ring whizzes past without a second thought to the role the Isartor played in shaping the city. The Isartor, the only one to have survived largely intact, consists of three towers: the central tower built in 1337, and two octagonal towers added a century later. The southern tower houses the Valentin-Musäum.

From Isartor, track the course of the wall by following the Thomas-Wimmer-Ring to the north. The multi-lane road circling the Old Town traces, fairly closely, the boundaries of Maximilian's 17th-century fortifications. Today, unfortunately, only street signs mark the places where tall towers once stood. Neuturmstrasse, Falkenturmstrasse and Am Kosttor pay homage to additional towers and a gate that once protected the city. The fortification belt of 1619 encompassed the Hofgarten, now circled by Von der Tann Strasse. A shortcut through the Hofgarten to Odeonsplatz and on to Jungfernturmstrasse will bring you to a well-preserved section of the second wall, complete with pathways, bricked-up door frames and lookout holes. The Jungfern Tower, demolished in 1804, was legendary. According to some tales, a likeness of the Virgin Mary was said to have been seen within the tower, while others tell how criminals facing the death penalty were forced to kiss the tower. As they did so, the ground was said to have opened beneath them, sending them plummeting to their death.

Continue towards the Karlstor at Karlsplatz, locally known as Stachus. Every day, hundreds of eager tourists and shoppers pass through this arched gate, unaware of its rich history. The woman selling fruit at her stand by Karlstor evokes images of women from an earlier time, who would wash their clothes in the water that flowed past in a moat on the same spot. Karlstor has two, squared-off towers flanking a large arched entrance. A third, central tower was destroyed in 1861 when gunpowder being stored there exploded. Follow Sonnenstrasse to your final destination, Sendlinger Tor. Here, a street musician and his skinny hound rest against a vine-covered tower, recalling times when weary travelers would stop for a respite and farmers would gather for a bit of local gossip. Sendlinger Tor was completed in 1318, but underwent considerable modifications in the intervening centuries. For example, in an attempt to resolve 20th-century traffic problems, what were previously three small arches were converted into a single one, while pedestrian arches were added to each side tower.

For a walk around fully preserved medieval city walls, take a short trip to
Rothenburg-ob-der-Tauber in northern Bavaria or Dinkelsbühl in western Bavaria. Little-known Nördlingen also has a well-preserved town wall and is a charming little place.


© MF Knipple/April 05