Wine Fest
July 8–July 24:
Get a taste of Franconian wine culture at the Alter Hof near Marienplatz!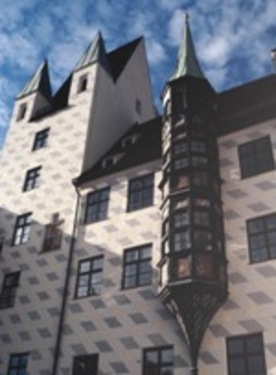 Despite Bavaria's extensive agricultural tradition, Franconia is the only wine region of the Free State. Due to the mild climate along the Main river and unique soil conditions, the area in the north west of Bavaria can look back to more than a thousand years of winemaking. Honoring the high quality of wines from Franconia, the Vinorant venue located in the Alter Hof will host the "Fränkisches Weinsfest" (Franconian Wine Fest). Barrels of red and white wine will be tapped by Franconia's "Wine Queen", Sabine Ziegler, and a Munich city official on July 8. After its official inauguration, the festival will run Monday through Friday from 3 pm to 10:30 pm, Saturday from noon to 11:30 pm, and Sunday from noon to 10:30 pm. Apart from fermented grape juice, Vinorant will also serve culinary specialties from the region backed by a side program of Franconian music. For more information, visit alter-hof-muenchen.de.

The Alter Hof (Old Courtyard; pictured above) situated between the Dallmayr building and the Hofbräuhaus is an architectural gem of its own. For centuries the courtyard was part of the residence of the Wittelsbach dynasty. Architectural elements such as a Gothic bay and the rhombic pattern painted on the buildings' façade are still testament to the courtyard's century-long history.