Miss Green Ice
A new kiosk adjacent to the popular river surfing spot of Eisbach has opened its doors.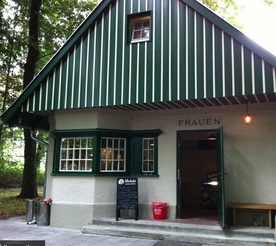 Built in 1904, a petite building at the Prinzregentenstrasse end of the English Garden served as a public toilette for almost one century. In 1990 however, the facilities were closed as the building had been frequently damaged by rowdies. Despite this rigorous step of the park management, the former public toilette remained an eyesore. It took another two decades until the park management came up with the solution to turn the place into a kiosk. After a call for bids, a lease agreement was granted to a Munich couple, who has lovingly restored the historical site. Under the name Fräulein Grüneis (Mis Green Ice), the kiosk will serve organic food from regional farmers. The menu will include anything from sandwiches and homemade cakes to a small selection of warm meals.
Indeed, Fräulein Grüneis has its own charm, the concept, though is quite similar to another nook that has successfully served organic food in the English Garden—the Milchhäusl (Milk House Kiosk) close Veterinärstrasse. For more information on both kiosks, visit
fraeulein-grueneis.de
and
milchhaeusl.de
.