European Asparagus Museum
Schrobenhausen near Munich has devoted a museum to spring's iconic vegetable.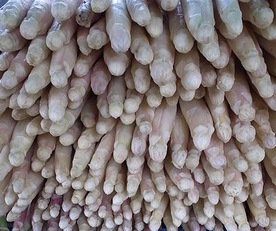 In Germany, the months of May and June are marked by a particular culinary delight—asparagus. Restaurant chefs as well as amateur cooks hail the asparagus season with innumerous creative dishes. However, one Bavarian enthusiast figured that savoring the traditional vegetable each year was not enough. Thus, Dr. Klaus Englert, a town council man of Schrobenhausen, opened the European Asparagus Museum. (Europäisches Spargelmuseum). Founded in 1985, the museum is located in a 15th-century tower adjacent to the old city wall.
The collection comprises exhibits from more than 30 countries. The museum's ground floor is devoted to asparagus farming and to the history of the European asparagus market. On the first floor, asparagus dishes and recipes are displayed, while second-floor exhibits include paintings from the Dutch and Flemish Schools, reproductions of works by Edouard Manet and Karl Schuch and 20th-century originals, including Andy Warhol lithographs. All accompanying texts are presented in English, German and French. Of course, after this rather theoretical approach on the subject matter Schrobenhausen restaurants offer asparagus entrées during the season.
Europäisches Spargelmuseum, Am Hofgraben 3, 86529 Schrobenhausen, Tel. (08252) 900. Opening Hours: April – June, daily 10 am–6 pm, July–March Sun., 2 pm–4 pm.
Schrobenhausen is about a one-hour drive away from Munich. For more information, visit schrobenhausen.de. The German website spargel.de also informs on Schrobenhausen asparagus farmers and their growing methods.
For those, who wish to savor the spring vegetable from Schrobenhausen without making the effort of a drive: many stalls at Viktualienmarkt daily offer a great supply of "Schrobenhausener Spargel" throughout the seasonn.